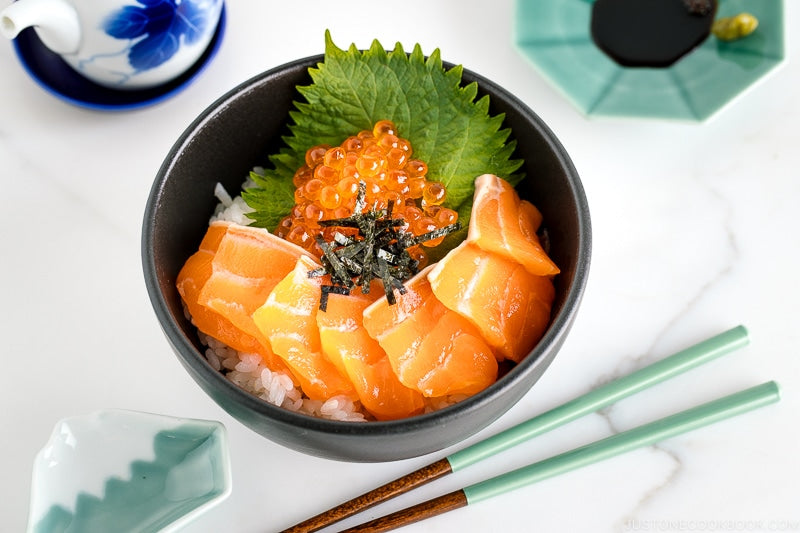 Satisfy your sushi craving with this Salmon Sashimi Bowl! Topped with fresh sashimi-grade salmon, salmon roe (ikura), and shredded nori, this Japanese donburi is light and super tasty. It's also one of the quickest fancy dinners you can put together.

Sushi and sashimi always make a real treat for seafood lovers. While they may be the kind of foods you rather enjoy at a Japanese restaurant, at home, you can make this Salmon Sashimi Bowl with Ikura (鮭いくら丼).
A bowl of steamed rice, topped with pure luxury from the ocean, this Japanese rice bowl turns out to be one of the easiest dishes imaginable.
Satisfy Your Sushi Cravings!
These days you can enjoy fresh sashimi-grade seafood without a trip to a sushi restaurant or Japanese grocery store. You just need to know where to source them or have them delivered straight to your home.
When my family has a craving for sushi, I often resolve it by making this Salmon Sashimi Bowl. It's extremely quick, refreshing, yet fancy. The robust flavor of fresh salmon and rich saltiness of ikura roe, when enjoyed with the tender sweet rice, you know you're in for a heavenly indulgence. Best of all, enjoying seafood at home is so much more economical than eating out.
The sashimi bowl is, of course, more of a concept than a real recipe. What you need to do is to cook rice, assemble all the ingredients, and serve.
Quick and Easy Meal Ready in 10 Minutes!
As long as you have the rice cooked in advance, it really doesn't take much to prepare:
Make sure the rice is cooked ahead (whether scheduled in your rice cooker or

ready to reheat from the freezer).

 Otherwise, just make steamed rice using your method. The rice cooking time is not counted for total preparation time.
Slice salmon. Read my tips below.
Serve steamed rice, let it cool off slightly. Meanwhile, you can set up other toppings.
Assemble salmon sashimi, ikura, shiso leaves, and shredded nori on top. Serve with soy sauce!
Tips to Slice Salmon Sashimi
There are a few tips for slicing salmon sashimi that has worked for us.
Place the salmon block in the freezer for 5-10 min before slicing. This will firm up the flesh so it's easier to slice.
You don't need a sashimi knife but make sure to use a really sharp knife. Do not use a serrated knife to slice sashimi.
The simplest way to slice salmon sashimi is to cut the fish vertically. Pulling the knife towards you, start the cut from the base of the knife to the tip. This method is called hira-zukuri.
Should I Use Steamed Rice or Vinegared Sushi Rice?
Considering this rice bowl is served with sashimi, you may wonder if we have to use "sushi rice", which is steamed rice that's seasoned with sweet vinegar or sushi vinegar.
In Japan, we serve simple steamed rice whenever a dish is called "Donburi (丼ぶり)" or "Don (丼)" for short. However, when the sashimi is served over the rice and it's called "Sushi", then the steamed rice is always seasoned.
Having said that, you're the one who decides when cooking and eating at home. For this "Salmon and Ikura Donburi" recipe, I served it with plain steamed rice. But feel free to serve with sushi rice.
Itadakimasu!
I hope this quick and easy Salmon Sashimi Bowl inspires you! If you're not a salmon fan, try it with your other favorite raw fish such as tuna, hamachi, or sweet crab meat.
Lastly, please use only sashimi-grade salmon for raw consumption. Some salmon contains parasites and here are the FDA guidelines for destroying the parasites:
Freezing and storing at an ambient temperature of -4°F (-20°C) or below for 7 days (total time), or freezing at an ambient temperature of -31°F (-35°C) or below until solid and storing at an ambient temperature of -31°F (-35°C) or below for 15 hours, or freezing at an ambient temperature of -31°F (-35°C) or below until solid and storing at an ambient temperature of -4°F (-20°C) or below for 24 hours are sufficient to kill parasites.

INGREDIENTS
2
servings
cooked Japanese short-grain rice
5
oz
sashimi-grade salmon
3
Tbsp
IKURA
(salmon roe)
Toppings (Optional)
2
shiso leaves (perilla/ooba)
2
Tbsp
shredded nori seaweed (kizami nori)
To Serve With
 soy sauce
 wasabi
INSTRUCTIONS
1. Gather all the ingredients.

2. With a very sharp knife, slice salmon sashimi. Remove the stem of the shiso leaves.


3.Serve steamed rice in rice bowls and let cool slightly. You do not want the hot rice to cook the sashimi. Place slices of salmon down like flower petals until you cover the rice. Place the shiso leaf and ikura on top. Garnish with kizami nori (shredded nori). Serve soy sauce in a small dish and put wasabi on the side. Mix it up and drizzle on top before you enjoy!