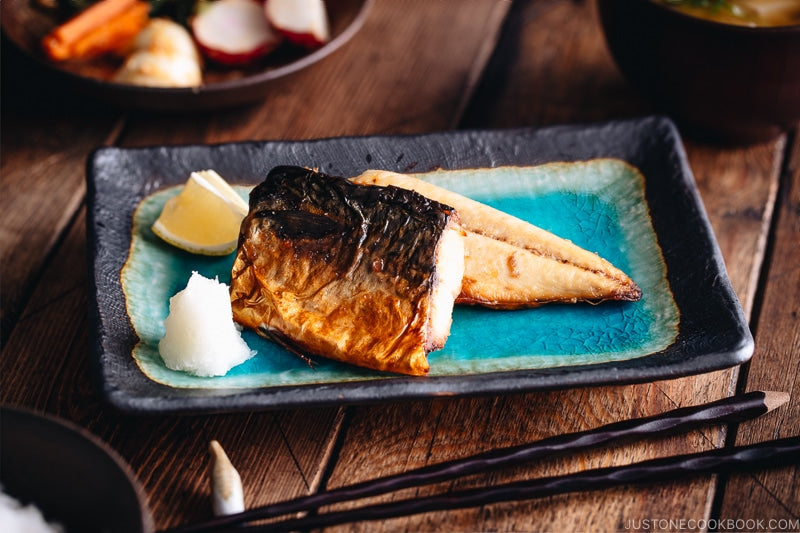 Baked in the oven, this Grilled Mackerel or Saba Shioyaki is the simplest fish recipe you can make on a busy weeknight. Serve steamed rice, miso soup, and a side salad to accompany this flavorful fish!

Grilled Mackerel or Saba Shioyaki (鯖の塩焼き) is one of the popular seafood dishes served as an entree or part of a bento combination in Japanese restaurants in the U.S. You may already know this, but what you may not know is how fast and easy it is to make this grilled fish at home. This is the reason I love making this for my family dinner — it feels special, but is so very simple.
What Does Saba Shioyaki Mean?
Saba (鯖) is mackerel and Shioyaki (塩焼き) means salt (shio) and grilling (yaki). As you can guess, the only seasoning we need for this dish is salt, which brings out the rich flavors of mackerel. Anyone can just season with salt and cook, and call it a recipe; however, I'll show you a few tips you can use to make the dish extra delicious!

2 Tips to Make Delicious Grilled Mackerel (Saba Shioyaki)
1. The Use of Sake
If you're familiar with Japanese cooking, you'd notice that the majority of recipes call for sake (Japanese rice wine). There are many benefits of using sake in Japanese cuisine, and this recipe is no exception.